Always Adored Red Surplice Midi Dress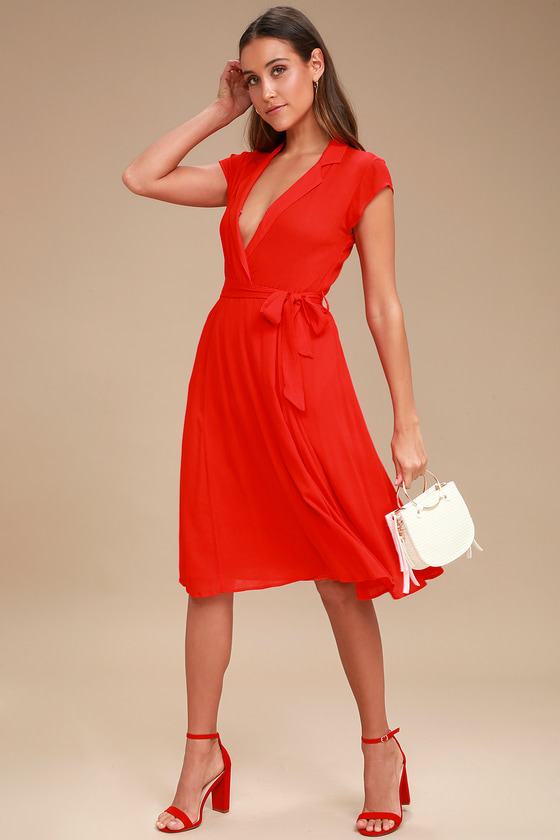 #LOVELULUS
Tag your photos on Instagram for a chance to WIN $250!
Lulus Exclusive! Keep the love letters coming with the Lulus Always Adored Red Surplice Midi Dress! This gauzy, woven dress is soon to be your go-to with its cute, collared neckline and surplice bodice (with modesty snap), all framed by cap sleeves. Elasticized waist, with tying sash and belt loops, tops a full midi skirt that's perfectly flowy.
Skirt is lined.
Self: 100% Rayon. Lining: 100% Cotton.
Hand Wash Cold.
Imported.
Style 597662
Customer Reviews
Fit: True to Size
Color:

Blue
Long, but perfect after tailoring!
I purchased this dress for engagement photos and absolutely loved it! The material is light and flowy, perfect for summer. The length was just a little long, hitting a couple inches below the knees and shortening the appearance of my legs. All it needed was a hem!
— Samantha C.
5' 6" tall, 135lbs

View Photos
Fit: True to Size
Color:

Red
Easy to wear
If you're tan completion - this will look fab. Sometimes red can be a little daunting -- but this has enough blue tones to off-set the color. Fits perfectly and very light weight.
— Rey S.
5' 11" tall, 150lbs, 28" waist
Fit: Runs a Little Large
Color:

Red
Great Red Dress for Work and After Work!
This dress is a perfect transition dress from work to drinks after work. The shape is extremely flattering and the dress moves great (lots of bounce with the skirt)! The only thing to be careful of is the cleavage area as there is a loose clause that can come undone if you are moving a lot. For work I wear the dress with a white bralette underneath, but if I am just going out with friends it is not necessary. Really enjoy this dress and the...

READ MORE
— Katie L.
5' 7" tall, 135lbs, 34C, 27" waist
Fit: True to Size
Color:

Red
Perfect!
I got sooo many compliments on this dress! It fit absolutely perfectly. It's got a little snap on the neckline so the top doesn't gape open. It came to just above mid-calf on me. The red is a bright, warm (but not orange-y) tone. I wore this to a picnic on a 90-degree day and it was light and breezy and perfect. I felt so good in this! It wasn't too sheer, and I think this dress could easily work in an office too. It does wrinkle, but I was able...

READ MORE
— Julia A.
5' 3" tall, 115lbs, 32A, 25" waist, 36" hip

View Photos
Fit: True to Size
Color:

Red
Classy and sexy
One of the reasons I love Lulus so much is because they have so many options that are both classy and sexy. This dress was worn throughout the summer for different occasions/events and also received compliments. The color really pops the way it does in the photos online.
— Michelle R.
5' 4" tall, 135lbs, 34A, 29" waist, 42" hip