Tres Sophisticated Beige Midi Skirt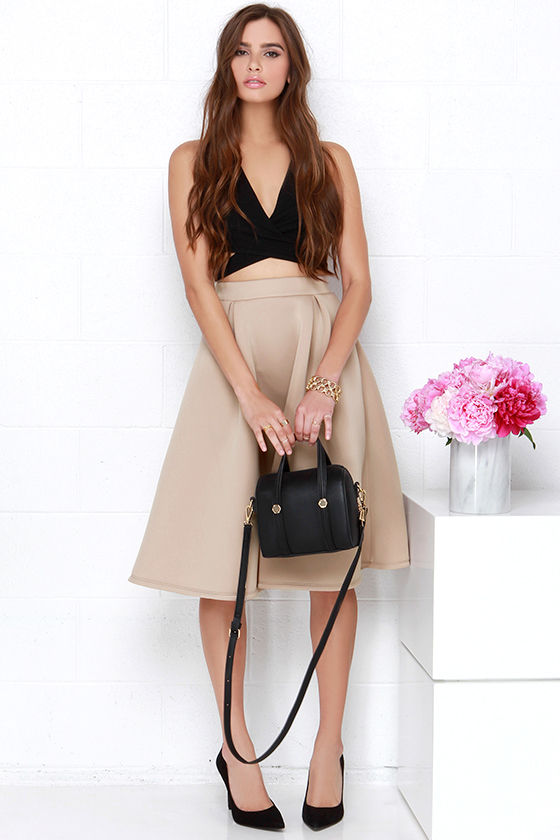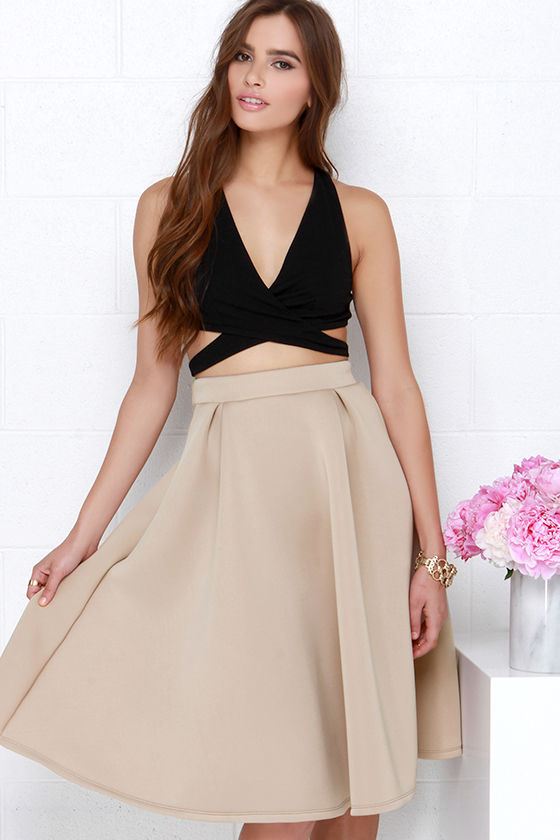 #LOVELULUS
Tag your photos on Instagram for a chance to WIN $250!
Add a dose of instant style whenever you add the Tres Sophisticated Beige Midi Skirt to the mix! Thick scuba knit has a soft, padded texture shaping an elastic waistband with high-rise fit. Subtle pleats introduce the full skirt with a chic midi length.
Unlined.
96% Polyester, 4% Spandex.
Hand Wash Cold.
Imported.
Style 226234
Customer Reviews
Product Rating: 5 of 5 stars
Fit: True to Size
Size Ordered: L
Color:

Black
Body Type: Curvy
Surprising Hit!
I bought this on a whim, not having owned a midi skirt before. Wore it to work- oh my god, it got so many compliments! Bonus, the fabric is super soft, almost a neoprene. Would recommend for work or date nights.
— Alyssa A.
Product Rating: 4 of 5 stars
Fit: True to Size
Size Ordered: XS
Color:

Black
Staple Skirt
This is a very well made skirt. The material is so soft and comfortable, though the elastic waist band makes it a little tricky to take on and off, and it can get tight depending on where you have the skirt sitting. I really love that this skirt is great for every day or work settings, but can also be dressed up to the extreme and become elegant and nearly formal. On me it falls well below the knee.
— V. R.
5' 4" tall, 104lbs, 22" waist, 36" hip
Product Rating: 4 of 5 stars
Fit: True to Size
Size Ordered: M
Color:

Black
Body Type: Long and Lean
Loveeeee, but kind of itchy
Love this skirt, it fit beautifully on my waist and the flowyness was just perfect. The only problem I had was the waist started to get itchy like the seam wasn't hidden properly so it sticks out and scratches you. Also, if you live in a hot area like Palm Springs, wait till it cools down because the material is thick but super soft! Overall, I dealt with the itchiness and really loved this skirt.
— Arielle
Product Rating: 3 of 5 stars
Fit: True to Size
Size Ordered: S
Color:

Beige
Body Type: Petite
Work style dress
Lovely coloured skirt and nice thick material. However, looks a little bottom heavy particularly when I am only 5'1. May need to adjust the length to suit my height so I can wear it to work.
— Jane P.
Product Rating: 2 of 5 stars
Color:

Beige
Not What I Expected
The skirt was true to size and a great length but the scuba material was very bulky. Due to the heaviness and thickness of the material I felt like it engulfed me and looked more like a super poofy ballgown. I ordered a large so this may not even be an issue for the smaller sizes. I was really disappointed. I wanted to like it.
— Makaravine D.