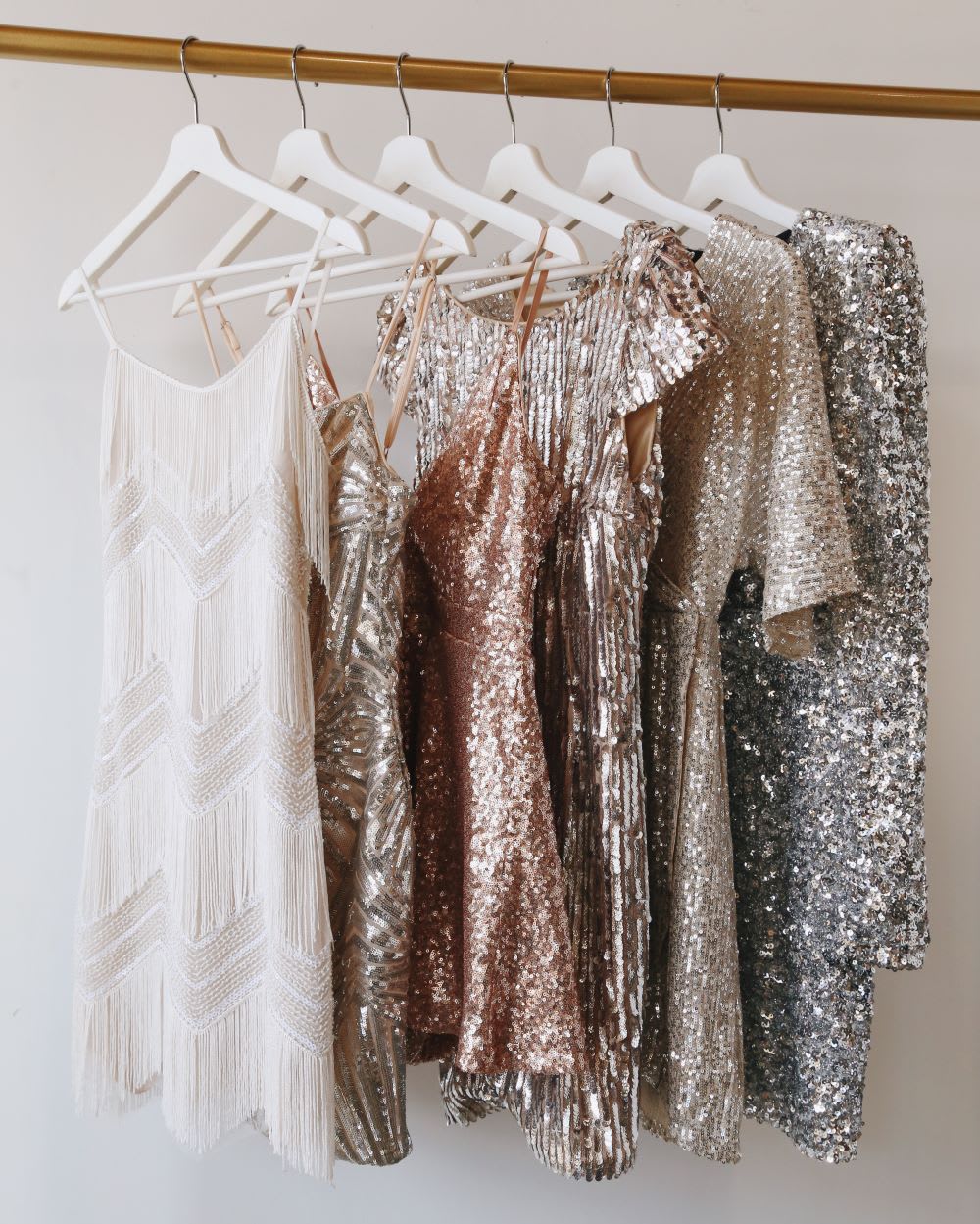 It's that time of the year again; we're all scrambling to secure our last-minute gifts, reviewing our Spotify wrapped playlists (Lana Del Rey was my top artist again?), and dreading (I mean, looking forward to) all the time we get to spend with our in-laws over the holidays. 
But with all the stress that comes with the holiday season, shopping for New Year's Eve outfits shouldn't play a part. It should be fun! We've been cooped up for too long and we all deserve this night to ourselves, no matter what we have planned. So if you're not sure what to wear for New Year's, sit back, grab your favorite hot drink (we won't tell anyone if it's spiked), and do something for yourself by securing your perfect outfit. We've got you covered for any occasion. 
Off-The-Shoulder LBD + Red Satin Heels + Embellished Clutch
Click to shop; Image via @michellexdiaz
Remind everyone that you know this holiday season that you're the gift by rocking these bright red heels adorned with a festive bow in the back. They're trendy, unique, and allow you to express your personal style. Since these holiday-ready heels make such a bold statement, keep the rest of your outfit simple with a timeless off-the-shoulder black dress and a colorful embellished clutch. 
Two-Piece Dress + Lace-Up Heels
Click to shop; Image via @chazlyn.yvonne
This glam look is perfect for New Year's Eve and then some. This black satin two-piece dress has you covered, whether you're staying low-key or going out out. Swap the cropped top for a cozy sweater, wear the cami with jeans, or rock it as a set. Either way, pair it with strappy pearl heels and your favorite necklace, and this outfit will have you prepped for
Sequin Bodycon + Ankle Strap Heels
Click to shop; Image via @iammonicahill
No New Year's Eve outfit lineup would be complete without mentioning some amount of sparkle. We've spent enough time indoors these past few years; make your debut back into society with a gorgeous sequin bodycon dress. Sequin dresses speak for themselves, so no need to go overboard with accessories. Pair it with your sexiest pair of strappy heels and voila! You've got a stunning look, put together in less than 15 minutes. whatever party you're hitting.
Tulle Skater Dress + Feather Trim Heels
Click to shop; Image via @chazlyn.yvonne
For those looking to add an extra touch of feminine glam to their NYE look, opt for this ultra-chic pink tulle skater dress. It's light and playful, but also gives strong fashion babe vibes–perfect for those looking to make a statement at midnight. Pair it with feathered accessories and you'll be turning heads all night. 
Corset Top + Vegan Leather Pants
Click to shop
Going for a look that says "edgy meets sexy?" Ring in the New Year looking badass from head to toe with this all-black outfit with animal print extras. Perfect for a night on the town, or partying with a few girlfriends, this fit will have you feeling bold and beautiful as you dance the night away. 
Sequin Mini Dress + Pointy Heels + Headband
Click to shop; Image via @iamstherfaned
Trying to secure that New Year's kiss at midnight? This sparkly sequin mini dress is sure to capture everyone's attention. While the dress makes a statement all on its own, an embellished headband and glam pointy heels with lurex details take this look to
Trench + Sweater + Vegan Leather Leggings + Platform Boots
Click to shop; Image via eriikalima
Keeping it low-key this year? Just because you aren't going to a party doesn't mean you can't look amazing when the clock strikes twelve. Pair a classic trench coat with a cable knit sweater and statement leggings, like this sleek vegan leather pair. It's a stylish, pulled-together look that also allows for plenty of movement, juuust in case you and your friends decide to go dancing at the last minute. the next level. It is New Year's Eve, after all– so why not just go all out? Just be prepared for admirers; they won't be able to resist you!
Backless LBD + Ankle Strap Heels
Click to shop; Image via @itsmarisa_kay
We all know that a little black dress never goes out of style. Upgrade your closet staple with a low-cut, backless black dress. It's a sexy twist on a timeless classic. Pair it with a pair of black ankle-strap heels, and you're all set for a night on the town or even that New Year's Eve wedding you're going to. 
Knit Bodycon Dress + Tall Boots
Click to shop; Image via @diamondalicia
Looking for a dress that will keep you comfortable all night long, while still looking chic? A ribbed knit long-sleeve bodycon is not only super stylish but guaranteed to keep you cozy and cute through the champagne toast. Pair it with white knee-high boots and you've got an effortlessly sexy look.
Lace Bodysuit + Vegan Leather Shorts + Gold Choker
Click to shop
Spending NYE in a warmer climate? Leave 2021 behind while rocking a sultry black lace bustier bodysuit and vegan leather shorts. The best part about this sexy top is that it pairs perfectly with any bottom. Whether you're keeping it semi-casual and pairing it with high-waisted skinny jeans, or going a bolder route in evening shorts, this bodysuit is ready to go wherever the night takes you. 
We want to see your New Year's Eve outfits! Show us on Instagram @lulus using #lovelulus! For more festive looks to wear for New Year's, head to our NYE Shop! 
This post was originally published in December 2018 and has been updated with new content.